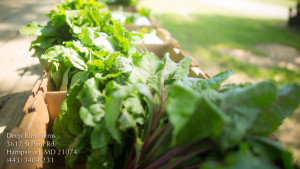 With fresh fruits and veggies in abundance this time of year, summer is the perfect time to explore the concept of eating local. Once something done out of necessity before refrigerated trucks and pre-packaged convenience foods, the idea of eating local puts an emphasis on procuring your food from within roughly 100 miles of your home.
Buying food that is grown near your home is not only a great way to be energy conscience and support local farmers, it is also a wonderful way to ensure you are eating fresh, seasonal foods!
Although sustainable, local farming has been steadily growing in popularity, it can still be a little overwhelming at first, especially if you are not used to it. But, don't worry! Read below for three different ways you can get started and be sure to check out the very end for a delicious recipe utilizing fresh veggies from one of our recent weekly CSA harvests!
Eating Local Idea #1: Check out a Farmer's Market
Farmer's Markets are an awesome, fun way to find fresh local produce, locally produced, honey, cheese and even meats in some cases. Often held weekly in many towns and cities, farmers' markets are filled with different vendors from all around your area offering a wide variety of produce and other delicious goodies. Be sure to go early to have your pick of produce!
Eating Local Idea #2: Pay Closer Attention at Your Standard Grocery Store
Many big grocery chains are getting on the "local" bandwagon, thanks to increased demand by consumers. Keep your eyes open for signs that note where the produce or goods are from. Many supermarkets will have local tomatoes, corn and melons on sale during the summer months – and you can always ask the produce manager for assistance.
Eating Local Idea #3: Join a CSA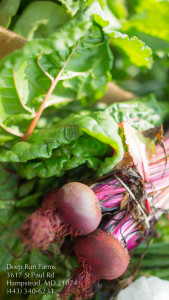 Although we are biased, we think joining a Community Supported Agriculture (CSA) is the best way to enjoy local produce. But, trust us, it's with good reason! Here's the skinny on a CSA: a farmer offers a certain number of "shares" for purchase to the public. Usually the share consists of a box of vegetables, but other farm products may be included, such as meats, cheese, honey, etc. Interested consumers purchase a share (aka a "membership" or a "subscription") and in return receive a box (or bag or basket) of seasonal produce each week throughout the farming season. CSAs are easy to join and quite inexpensive. And, since you will often receive a wide variety of veggies, they are a fun way to experiment with new recipes that you may never have otherwise tried. Bonus – you are supporting local farmers like us!
If you are interested in joining a CSA, we still have shares available and they are PRO-RATED! It's a great time to join! Click here for more info!
And, as promised, here is a super yummy recipe for Noodles and Veggies with Peanut Sauce, adapted from Kalyn's Kitchen: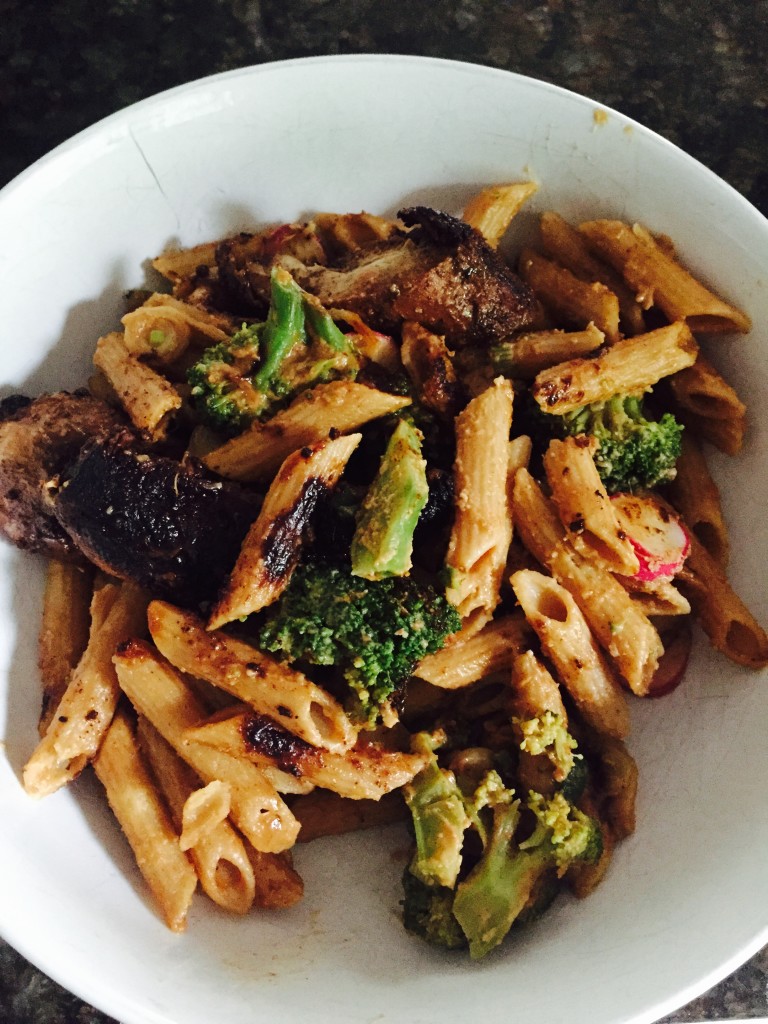 ½ pound whole wheat pasta (or pasta of your choice – could even be made with Zoodles!)
¼ cup low-sodium soy sauce (or coconut aminos or Braggs' Liquid Aminos)
¼ cup natural peanut butter
2 tbsp rice vinegar
1-2 tbsp sesame oil (I like 2 J)
1-2 tsp of Sriacha or other hot sauce
2 cups of veggies of your choice (I used broccoli because we had a ton, but red peppers, snap peas and cabbage would be delicious too (make sure you don't cook those!))
Thinly sliced radishes and scallions for garnish
Cook your pasta as instructed.
Meanwhile, in a bowl big enough to hold all the noodles, mix together the Tamari or soy sauce, rice vinegar, sesame oil, and Sriracha.
Heat the peanut butter in the microwave for a few seconds, and then whisk it into the sauce ingredients.
Add chopped broccoli to the pasta water for the last two minutes of cooking.
Drain pasta and add to the bowl with all of the sauce. Mix until everything is coated. Garnish with radishes and scallions.
Source: Kalyn's Kitchen