The weather is beginning to break, and Spring is now upon us. "Soon we will be plowing the fields and preparing for the first batch of plants. As soon as the fields dry out, it won't be long until we are in full swing working from sun up until sun down to produce the best crops we can for our CSA members," says Greg Horner, Manager of Operations at Deep Run Farms.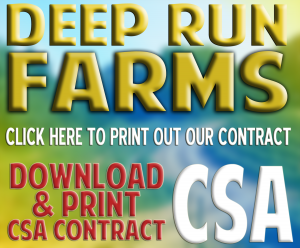 Deep Run Farms has been running a successful Community Supported Agriculture (CSA) Program for customers in Carroll County and Baltimore County for several years now. "We've had a great response from people in the community," says Greg, "I think people are tired of paying high prices for supermarket food, and feel better knowing exactly where their food comes from." Many people are fed up with the less-than-fresh food and high prices that line supermarket aisles and, instead, are joining local community-supported agriculture (CSA) programs.
New Varieties of Crops for our 2017 CSA Members
A Community-Supported Agriculture program gives local residents the opportunity to purchase shares of Deep Run Farms crops and goods. Joining a CSA is growing in popularity as a way of bringing fresh fruits, vegetables, milk, meat and other foods home, ending the dependence on nationally-run supermarkets. "This year we are trying several new varieties of crops – sweet lipstick style pepper, a new variety of tomato called Red Bounty, a new variety of early season white sweet corn, and a new type of cantaloupe that's known for being ultra-sweet. Our CSA customers are going to have a great selection to choose from," explained Greg. Many of these new varieties are grown specifically for CSA members.

Here are five reasons you should consider joining a CSA:
1. Support Your Community
When you purchase foods and goods at nationally-run supermarkets or online, your local community often won't see much of a return on that purchase. On the other hand, food purchased from local farmers helps support local businesses and invigorates your community and state.
It's a sad fact, but many local farms have been driven out of business by national food manufacturers that are able to produce low cost (and low quality) products at fast rates. The only way to ensure the survival of local farms that produce fresh and healthy foods is by supporting them through such programs as CSAs.
"All of the vegetables that my CSA members receive are grown right here on our farm. I never purchase from other farms or at produce auction as, unfortunately, many other CSA programs or farm to home programs have been known to do."
2. Enjoy Fresh and Local Foods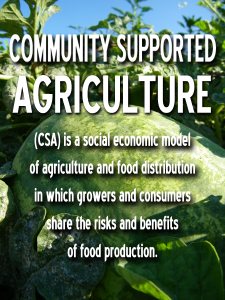 Flip over the box of many pre-packaged meals and you'll face a lengthy list of unreadable and unnecessary ingredients. The health problems caused by these preservatives and other ingredients are still largely unknown, but the rapidly rising national obesity rates should be one indicator of their effects.
Joining a CSA program allows you to enjoy fresh and local foods, without any concerns about their origins. By learning to cook with these fresh ingredients, you can supply your family with healthy and wholesome meals every day. You can also begin learning more about seasonal ingredients and how to use them properly. Canning or freezing any excess produce ensures a year-round supply of low cost, locally grown food.
Our CSA members are the first people who have access to the crops, and they get it even fresher than wholesale or farmers markets. All the vegetables you receive through your CSA membership are picked fresh, usually the same day!
3. Save More Money
The exact amount you can save by joining a CSA program depends on where you live and which shareholder options you select. However, considering the ever-rising costs of supermarket goods, your CSA shares ensure a steady supply of fresh food at a low cost.
Maximize your savings by never letting your CSA shares go to waste. This is done by making properly portioned foods for your family and by learning how to can and freeze any excess. Canning your leftover fruits and vegetables ensures you'll have a year-round supply of wholesome ingredients to serve at the dinner table.
"I make sure that my CSA members get their money's worth, cheaper than they would if they purchased them at a grocery store, farmer's market, or even at my own roadside stand."
4. Support the Environment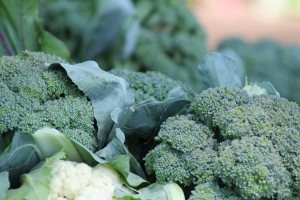 Many national food producers have one main concern: making a profit. Unfortunately, this is often achieved at the environment's expense. By joining a CSA program, you'll be supporting local farmers that are concerned about the condition of their land and whom grow crops in sustainable manners. Eating truly local produce also reduces your carbon footprint, as you reduce the effect transportation of goods can have on the environment.
5. Connect Your Kids with Nature
Many children are disconnected from nature and know nothing about the farm-to-table process. Our CSA program gives their shareholders the opportunity to visit the farm on a weekly basis, the perfect opportunity for reconnecting your children with nature, and with the source of the food they eat. When kids are actively involved with growing the food that's served at your dinner table, they'll be all the more likely to eat healthier.
"The fact is, fresh food just tastes better. That's the comment I've heard every year I've run a CSA – people love how fresh the food is."
Looking for a local CSA in Maryland to join? Click here to contact Deep Run Farms. We'll provide you with fresh, healthy food and get you involved in the farm-to-table process.